PERSONAL HISTORY PART 2: SPIRITUAL & SECULAR
LOU ROTOLA:
SUNRISE RANCH
LOVELAND/FORT COLLINS, CO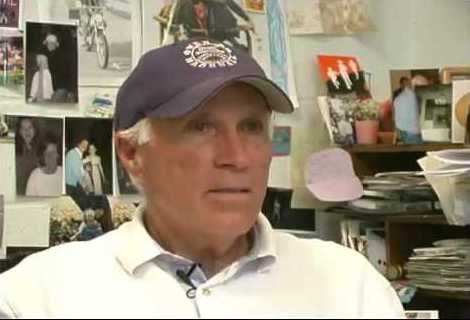 Lou Rotola remains a good friend today, over 30 years since I first met him. When I was living in Boulder CO, cooking French (See John's Restaurant in Kudos), and working on my 2nd studio album (that would create a connection with David Stewart), I met Lou at a weekend retreat just outside of town. Lou was a chiropractor for several decades in New York. He worked primarily by accepting anonymous donations. He was skilled. I know. He adjusted me several times. But that was not the core of our relationship.
Years ago while recording an album that was produced by Kit Walker, Kit did an astrological chart on me. He is an excellent astrologist as well as keyboardist, producer, and writer. A link to his site is included under his name. My chart was very interesting. I don't know much about astrology, but it was quite apparent that my chart revealed strong tendencies to either being fully engaged in the world, or totally removed from it. Hence, since 1986 I have continuously worked on the guitar, whether I was teaching 30 students/week overseas or in the United States (as well as composing & recording); or living on a kibbutz, in Buddhist monasteries, Jewish and/or Christian communities, what have you. Some of the reasons for the 'swinging pendulum' were health-related, but not all.
While living in Boulder, engaged in the world, I came into contact with the spiritual community in which Lou was part of as one of the significant leaders. Even though he had been in the West for many years he still maintained a strong New York accent. He is a person that I would describe as extra ordinary (extraordinary): down to Earth, always positive and acknowledging, and a true Karma Yogin. I've been drawn to Karma Yogins, as their paths were akin to my own spiritual practice. Wherever I lived in the world (approximately 2 dozen cities in the past 50 years), I would always gravitate to kindred spirits on the same path, regardless of ages or stages. Sometimes these colleagues would be younger, but much of the time older. Lou was the abundant spirit that defined my practice in Colorado.
After 2 years of living in Boulder, and completing the recording of the yet released Red Horizon, I accepted an invitation from Lou to join him in residency with 135 spiritual practitioners of all ages on a 300 + acre ranch in Loveland, CO. I remained there for the next 4 years, at which point I returned to India (See Jane Haynes/Meher Baba) and recorded the album Monsoon Season (See Notes in Discography Section). As usual, even though not in the world per se, I played guitar nightly for about 4 hours (I again discovered areas of the ranch which provided good acoustic rooms and buildings). During the day I cooked with 11 others on a team that was providing meals 3 times a day and cooking for up to 350 people on the holidays. I loved it.
Lou had a small group of men (around 10-12) that he considered to be part of his 'fire brigade'. When he needed people to put out fires (not literally) he would call on them. I was part of that group, and along with a few others filled a lot of holes in the workplace when needed. I didn't feel special, it was quite ordinary, and again a chance to be a part of divine stewardship.
At Green Gulch Farm in Mill Valley, I studied the works of the founder of San Francisco Zen Center: Shunryu Suzuki better known as Suzuki Roshi. One of his classic themes that were brought out in the book 'Zen Mind, Beginners Mind' was the principle of 'Leave No Trace'. Over the past 3 decades, in telephone conversations with Lou, we've talked about this principle along with other watchwords which have given a simple explanation of our purpose. Lou speaks of Above:: Down & Inside:: Out: and always addressing his conversations with groups big or small, or individuals as a discussion with himself first. We all have the 'best seat in the house' when it comes to mastery of anything, especially oneself. And mastery is not a destination. Mastery is a process. To 'Leave No Trace' is to enter in and exit out of any and all situations with little to no lingering of one's personal ego-signature (not so easy!). Acknowledgment of Lou Rotola
---
COACH DUANE LARUE
CANYON COUNTRY CA
JUNE 1935 TO MAY 2017
Longtime Uni High teacher, coach and legend Duane LaRue passed away on May 8, 2017, at age 81. Born in Los Angeles in 1935, he graduated from Washington High School and went to Pepperdine College — as it was known then — on a football scholarship. He came to Uni for the 1962-63 school year as a physical education teacher and the co-coach for football and coach for gymnastics. He had a long and successful career at Uni, which included making the gymnastics program one of the best in the City, winning the 1970 All-City team championship. He continued at Uni for 32 academic years and finally retired as Physical Education department chairman and Athletic Director at the close of the 1993-94 academic year. During his early years of teaching he was also a part-time scout for the Los Angeles Rams. LaRue was a popular figure on campus despite an outwardly gruff demeanor. He demanded effort and excellence at all levels and from everyone he worked with, but with a sense of humor — if you weren't too scared to let it come out over time — that endeared him to many.
In 1987, he was presented with an Apple Award for teaching excellence by Los Angeles Mayor Tom Bradley.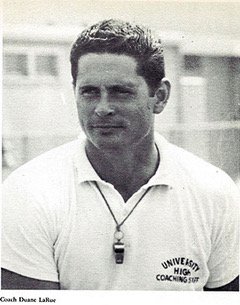 From 1962 until 1970 I lovingly devoted myself to gymnastics, specifically the pommel horse, also called the side-horse. I started in junior high school at the age of 12, around the same time that I began the study of guitar. I went on to be a Los Angeles city champion on the event in 1969, unofficially that is, as though I disqualified my self by falling off the 'horse' in preliminaries, therefore earning a low score, it turned out that our high school (University High in WLA) was to compete that year against Monroe High from the San Fernando valley). Therefore, on the night of competition finals which took place at Cal State Northridge, I was able to compete as a team member, regardless of my individual standing. Btw, up until the time that I had taken the fall, I had consistently won competitions, even though I was always nervous. Nervous yet confident, as I spent roughly 18-20 hours/week training.
---
THE POMMEL HORSE (OR SIDE-HORSE: 1 of 6 MEN'S ALL AROUND EVENTS)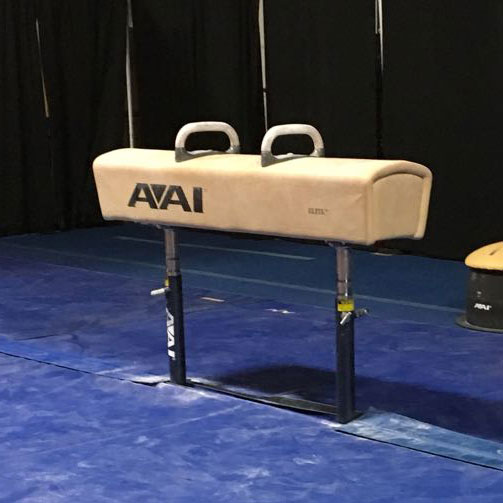 HIGH DOUBLES ON THE END, POSSIBLY A PREP FOR A DISMOUNT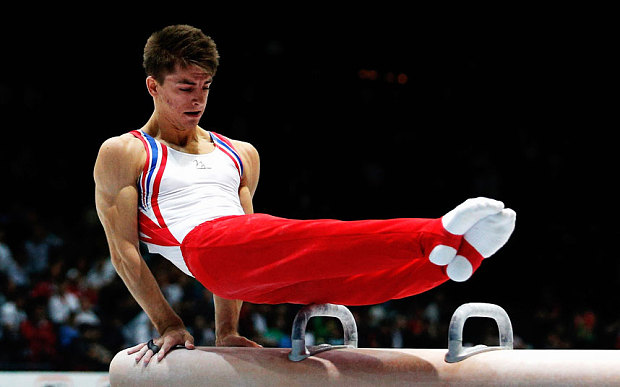 On the night of the competition, and I attribute this to having a deep sense of relaxation due to the fact that I was 'not' competing as an individual, just as a team member, I performed the best routine I had ever done up until that time. Imagine a young 17 year old guy, 6`2″ tall, 137 lb. (no kidding, my nickname from teammates was 'stick' and sometimes 'needle-neck.!), perfect form, almost flawless execution. Because of the earlier fall one week before, I played it safe and designed a conservative routine that though lacking in difficulty (which potentially allows competitors to earn higher scores, the maximum being 10.0, which is a rarity btw), allowed me to fully focus on the swing, flow, form, and dismount height.My score that evening was 9.1, which was significantly higher than anyone else. The adjective 'bitchen' comes to mind.
SIDEBAR: In a conversation with Steve Vai recently we laughed at the fact that growing up we both used the word 'bitchen', and then stopped using it when it seemed to be to 'geeky', However, for growing up as a gymnast and bodysurfer (I bodied surfed the Wedge in Balboa CA on a small day: about 8 foot waves) and musician, bitchen was just naturally part of my vocabulary. So I didn't't exactly stop using the word, but toned it down a bit as a got older. Then Vai tells me that we he joined Frank Zappa's band, the Frank used 'bitchen' constantly, so he started using it again!
---
PLANCHE: END OF HORSE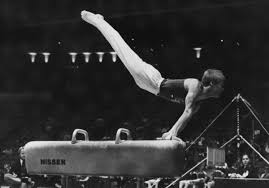 FORWARD SCISSORS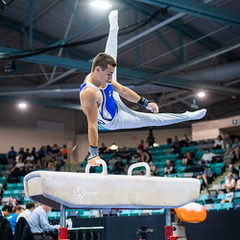 WORKING OFF THE POMMELS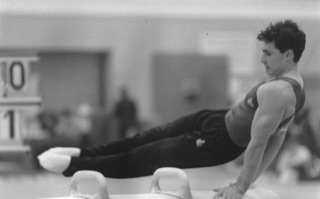 THOMAS FLAIR (Creator: Kurt Thomas)
Besides being elated by the feel of the performance, the yogic experience which was for me always foremost, and is my approach to music as well, I was pleasantly rewarded by interviews with several college coaches that night after the conclusion of the competition, offering scholarships. This included coaches from UCLA, UC Berkeley, Brigham Young, University of Nevada, and University of Washington. I accepted the invitation to be a Husky, and departed for Seattle in the Fall of 1969. The fact that it was furthest away from the nuttiness of my family definitely influenced my decision. LATER:  I attended Cal (UC Berkeley) under the guidance of Hal Frey, same coach to Dan Millman (Way of the Peaceful Warrior).
---
WORKING THE END OF THE HORSE (NAME: REAR IN)             
THOMAS FLAIR (Performed on Pommel Horse, Parallel Bars, & Free Exercise )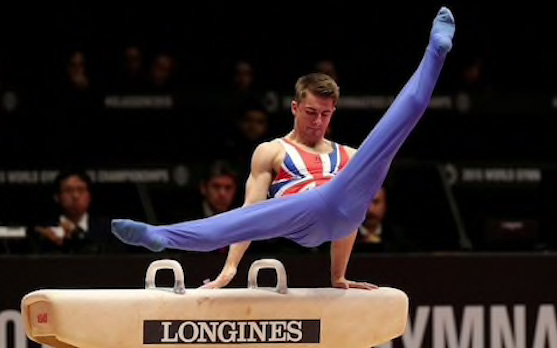 Till this day, I attribute my success at having a spiritual experience, (and therefore an experience of an element of mastery), to the all-embracing love and support of coach Duane La Rue. I am not the only one btw who has acknowledged this (See LinkBelow), especially to him personally, which I have done regularly since 1969. The last time though that we spoke, he had suffered a fall, and lost much of his memory, specifically with regards to the early years. I called him at home, and he was quite surprised that someone from 40 years earlier would still be moved by the experience of being on his gym team. I, without hesitation expressed that the power of love is not bound or limited by time, and that his love lived within me to this day. 🙂
---
REVERSE SCISSORS (Scissors Are Always a Compulsory Move on the Horse: Both Forward & Reverse)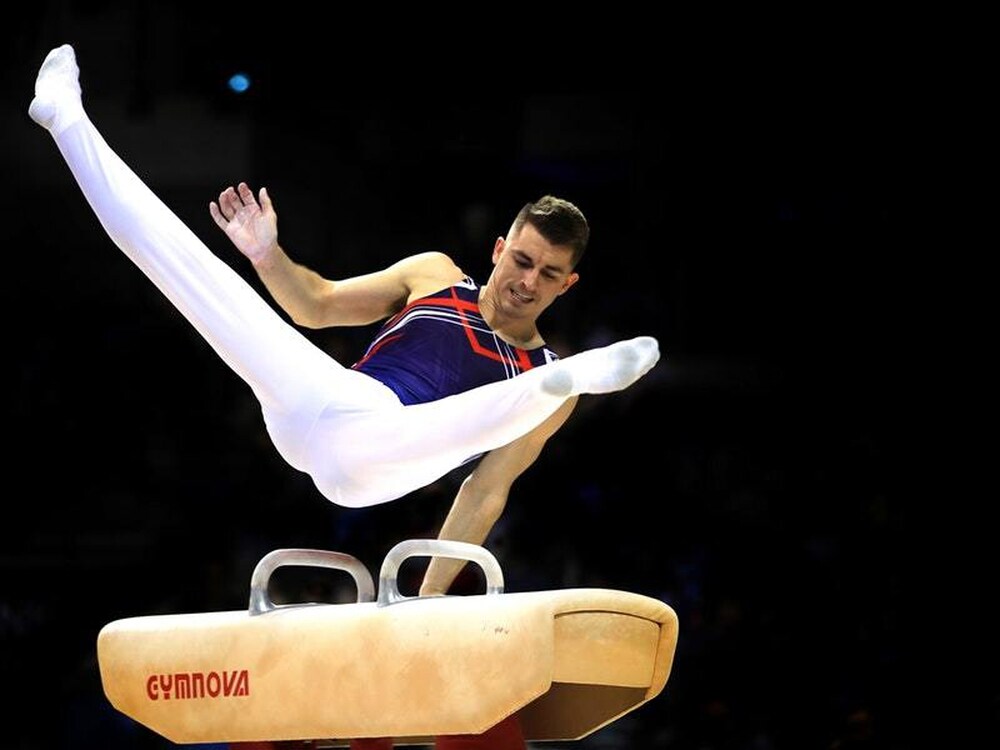 Final Note: Regarding COACH LARUE. So many young men felt as I did. His Obit contains comments from fellow teammates and even my brother:
https://www.legacy.com/obituaries/name/duane-larue-obituary?pid=185354763
---
BROTHER DAVID STEINDL-RAST
BENEDICTINE: CAMALDOLESE ORDER
BIG SUR, CA
https://gratefulness.org/brother-david/about-brother-david/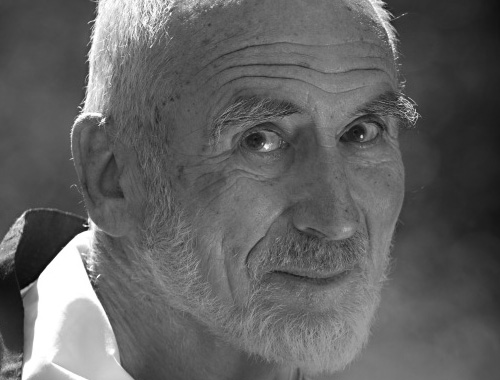 Brother David Steindl-Rast was born and raised in Vienna, Austria. He received his MA degree from the Vienna Academy of Fine Arts and his Ph.D. in experimental psychology from the University of Vienna (1952). He emigrated to the United States in the same year and became a Benedictine monk in 1953 at Mount Saviour Monastery in Pine City, New York.
Brother David was sent by his abbot to participate in Buddhist-Christian dialogues, for which he received Vatican approval in 1967. His Zen teachers were Hakuun Yasutani Roshi, Soen Nakagawa Roshi, Shunryu Suzuki Roshi, and Eido Shimano Roshi. He co-founded the Center for Spiritual Studies in 1968 and received the 1975 Martin Buber Award for his achievements in building bridges between religious traditions.
Together with Thomas Merton, Brother David helped launch a renewal of religious life. From 1970 on, he became a leading figure in the House of Prayer movement, which affected some 200,000 members of religious orders in the United States and Canada.
For decades, Brother David divided his time between periods of a hermit's life and extensive lecture tours on five continents. His wide spectrum of audiences has included starving students in Zaire, faculty at Harvard and Columbia Universities, Buddhist monks and Sufis, Papago Indians and German intellectuals, New Age communes and Naval Cadets at Annapolis, missionaries on Polynesian islands,  gatherings at the United Nations, Green Berets and participants at international peace conferences.
Wikipedia
I first met Brother David at Green Gulch Farm (Zen Center's Mill Valley Monastic Farm) in Marin County CA. He along with Thich Nhat Hanh, Robert Baker Aitken Roshi, and Sri Ariyaratne would come for 3-4 weeks each to offer support to San Francisco Zen Center during a time of tremendous upheaval and restructuring. I had only been in residence for about 6 weeks when these great spiritual leaders started showing up. And I was never asked to refrain from attending any of the meetings because I was a new member of the community. Actually, I had been up to Green Gulch Farm on a couple of occasions: for retreats and once to play music for the wedding of Dr. Eric Larsen (See Story Below).
I lived at Green Gulch Farm for 2 years, spending summers at Tassajara Monastery in the Los Padres National Forest, between Carmel Valley and Big Sur. When I would travel to Big Sur I would arrange for retreats at the Camaldolese Benedictine Monastery on Hwy 1, about 10 miles south of the internationally-known community: The Esalen Institute. At the time there were 9 retreat rooms that fanned out overlooking the ocean, each one of them simply furnished with small grassy fenced in yards. The monks would bring very basic food (but healthy) to a small communal kitchen. Today I understand that the waiting list is about 1 year or more to reserve a room. The practice was silent.
While there I would attend Vespers in the evening. The small chapel had a section that had a cathedral ceiling (somewhat stovepipe in shape) that reached up about 30+ feet. The acoustics in this space was incredible. Many professional musicians including Paul Winter (Paul Winter Consort) would stop in for services and play in this dome-like space. While on retreat I played guitar during Vespers and I loved the acoustics. The next day on a walk with Brother David he asked me if I'd like to give a concert in the refectory (adjacent to the chapel). I of course immediately accepted the invitation and the next night after dinner I set up my small Fender Princeton Amp and my Gurian guitar (on a guitar stand) and waited for the room to fill.
25 monks and 4 visiting nuns were in attendance. I began playing uninterrupted for about 45 minutes. Every so often I would look up and find all of the monks and nuns quietly meditating and swaying to the music. There was applause at the end of the program. It was possibly the most fun I have ever had performing as it was not performing at all. There was absolutely no separation between the performer (me) and the audience (the monks and nuns). That Sunday I was invited to join the monks for lunch within the compound gates which is usually reserved for the monks only. I sat with Brother David. Years later I saw him again at Tassajara and a conversation ensued as though there was never an interruption from years earlier. Steindl-Rast has been a truly inspiring elder. And I value his friendship since we first met in 1981.
Acknowledgment of Brother David Steindl-Rast
---
THICH NHAT HANH
GLOBAL SPIRITUAL LEADER & PEACE ACTIVIST
NOBLE PRIZE NOMINEE (Nominate by Martin Luther King Jr.)
PLUM VILLAGE, S.W. FRANCE
https://plumvillage.org/about/thich-nhat-hanh/biography/ 
https://en.wikipedia.org/wiki/Th%C3%ADch_Nhất_Hạnh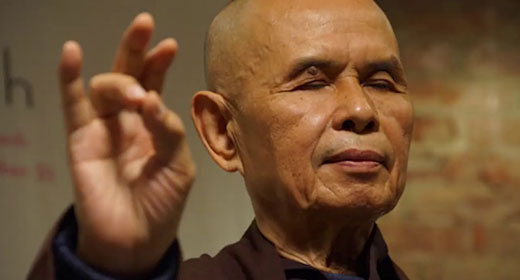 Zen Master Thich Nhat Hanh is a global spiritual leader, poet and peace activist, revered throughout the world for his powerful teachings and bestselling writings on mindfulness and peace. His key teaching is that, through mindfulness, we can learn to live happily in the present moment—the only way to truly develop peace, both in one's self and in the world. A prolific writer, Thich Nhat Hanh has published over 100 titles in English, ranging from classic manuals on meditation, mindfulness and Engaged Buddhism, to poems, children's stories, and commentaries on ancient Buddhist texts. He has sold over three million books in America alone, some of the best-known include Being Peace, Peace Is Every Step, The Miracle of Mindfulness, The Art of Power, True Love, and Anger.
Thich Nhat Hanh has done more than perhaps any Buddhist alive today to articulate and disseminate the core Buddhist teachings of mindfulness, kindness, and compassion to a broad global audience. The Vietnamese monk is second only to the Dalai Lama in fame and influence. Nhat Hanh made his name doing human rights and reconciliation work during the Vietnam War, which led Martin Luther King Jr. to nominate him for a Nobel Prize. He's considered the father of "Engaged Buddhism," a movement linking mindfulness practice with social action. He's also built a network of monasteries and retreat centers in six countries around the world, including the United States.
In 2014, Nhat Hanh had a stroke at Plum Village, the monastery and retreat center in southwest France he founded in 1982 that was also his home base. Though he was unable to speak after the stroke, he continued to lead the community, using his left arm and facial expressions to communicate. In October 2018, Nhat Hanh returned home to Vietnam to pass his final days at the Tu Hieu root temple in Hue, where he became a monk in 1942 at age 16.
Plum Village Website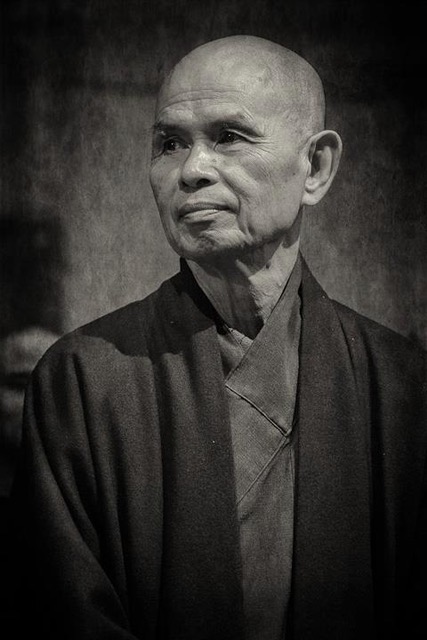 In 1981 at the age of 55, Nhat Hanh also came to Green Gulch Farm (GGF), Tassajara, and SF Zen City Center. He must have been here for at least 2 months as he was in temporary residence at GGF for nearly 3 weeks. Each day he led the service in the zendo (a hall dedicated to the practice of zazen or zen meditation). GGF's zendo was huge. It had been a barn with a ceiling about 30-40 feet high. And it was heated only by a wood burning stove that did little more than take the chill off during the cold, wet winter months.
A typical 1st period of zazen which would begin at 5 am & would always have the abbot or head priest enter the zendo last, holding a piece of incense between his/her palms, and place the incense on the altar accompanied by a quiet prayer before he/she would take their place on a meditation pillow (Zafu) designated for them at the front center of the zendo. There was never any music, or song, accompanying this opening protocol. Also, at the end of three 40 minute meditation sessions, a service of chanting (monotone phonetic Japanese ensued): some prostrations and commitments to vows, and then a quiet exit, followed by Soji (45 minutes of silent community cleanup), and 'silent' breakfast.
However! And as a musician I could really appreciate this, Nhat Hanh would enter the zendo singing a beautiful and lilting Vietnamese song (sacred no doubt) as he proceeded to the altar, and then to his zafu. Before I had a chance to be in his presence I had never heard anything musical in the zendo (almost as though it were not allowed). However, Thich Nhat Hanh broke that misconception with the expression of a simple, exotic, and heartfelt song.
At different times during the day, he would teach a class in a small room that had windows all around and could accommodate about 50- 75 people seated on zafus. He would address the group in a relaxed fashion and share with us his knowledge of mindfulness practice, non-violence, and meditation. He would also share original poetry. To be so close to him on a daily basis for nearly a month was a real blessing. He also held private dharma discussions (one on one) with those who desired it. His visit was so timely; and SF Zen Center residents expressed tremendous gratitude for his presence, especially at such a tumultuous time. Acknowledgment of Thich Nhat Hanh
---
ROBERT BAKER AITKEN ROSHI
CO-FOUNDER of the DIAMOND SANGHA (HAWAII)
ZEN TEACHER: HARADA-YASUTANI LINEAGE
https://en.wikipedia.org/wiki/Robert_Baker_Aitken 
https://diamondsangha.org/about-us/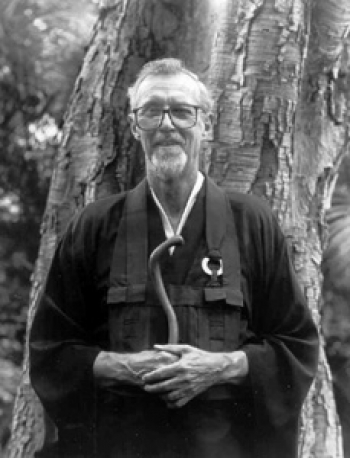 In 1959 Aitken Roshi and his wife Anne began a meditation group in Honolulu at their residence, which became known as the Koko-an zendo. The community that gathered at this zendo were then named the Diamond Sangha by the two. The Diamond Sangha has affiliate zen centers in South America, Australia, New Zealand, the United States, and Europe and is known for making the rigors of traditional Zen accessible to lay practitioners. In 1961, Aitken made an extended stay in Japan. He then worked in various capacities at the East-West Center and the University of Hawaii until 1969, when he and Anne moved to Maui, Hawaii to found the Maui Zendo in Haiku-Pauwela.
Robert Aitken was a social activist through much of his adult life, beginning with protesting against nuclear testing during the 1940s. He was an outspoken critic of the Vietnam War and became a strong opponent of the nuclear arms race between the United States and the Soviet Union. He was among the earlier proponents of deep ecology in religious America and was outspoken in his beliefs on the equality of men and women. In 1978 Aitken helped found the Buddhist Peace Fellowship, an organization that advocates conflict resolution globally.
Wikipedia
Robert Baker Aitken Roshi was the 3rd of the four significant East/West elders that facilitated SFZC in 1981: Thich Nhat Hanh, Brother David Steindl-Rast, Sri Ariyaratne, & Aitken Roshi. All of them were activist and engaged practitioners of peace through non-violent means. Dozens of men and women elders could be added to this list but it just so happened that Zen Center was blessed with the presence of these 4 men over the course of several months: sometimes overlapping in their visits.
Aitken Roshi also taught a class but in a uniquely different way: original, American, engaged, and without a doubt a committed social activist. By the time he joined us for the few weeks that he could spare, the Diamond Sangha (sangha = community of practitioners) had been well established. He left an indelible mark on the California community at the time of his visit, and there were those who gravitated to Hawaii to practice with him: and then reenter the world to practice his teaching of Engaged Buddhism.
Acknowledgment of Robert Baker Aitken Roshi
---
DR. AHANGAMAGE TUDOR ARIYARATNE
FOUNDER of the SHRAMADANA MOVEMENT
COLUMBO, SRI LANKA
https://en.wikipedia.org/wiki/A._T._Ariyaratne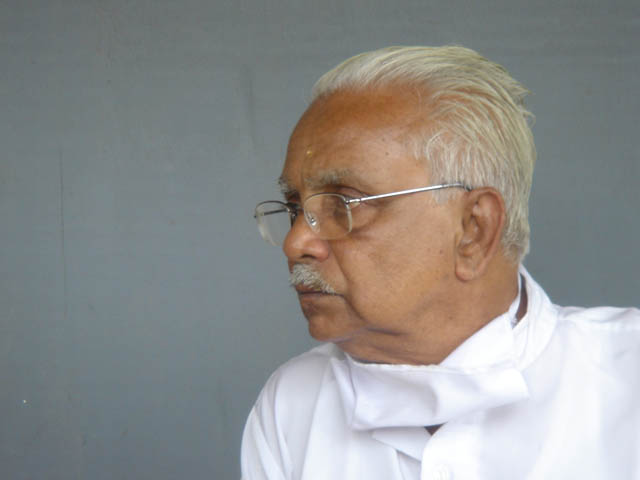 Born November 5, 1931, Dr. Ahangamage Tudor Ariyaratne was the founder of the Sarvodaya Shramadana movement of Sri Lanka. A former high school teacher at Nalanda College, he conducted the first Shramadana work camp in 1958, which eventually lead to the establishment of the largest non-government organization in the country. He has led tens of thousands of "family gatherings" and meditations with millions of people throughout Sri Lanka and other parts of the world.
Wikipedia
Sri Ariyaratne was one of the visiting elders at Green Gulch Farm (GGF) during SF Zen Center's upheaval in 1981. I did not get to know him as well as Brother David, but nevertheless, his presence was steadfast & radiant. Ariyaratne worked with Gandhi and took this experience back to Sri Lanka and set up what would be considered an internal Peace Corp. There is some great history on either of the website links above. He started with a handful of young men and women (≠50) and turned the Shramadana movement into the largest NGO in Sri Lanka. He gave guest lectures and sat zazen with us in the large zendo at GGF. Each of the 4 elder teachers spent time at all 3 of Zen Center's locations: The City Center, Tassajara Zen Mountain Monastery, and Green Gulch Farm. Their presence was truly healing and facilitated the transition into more democratic management of the organization that Suzuki Roshi had established in 1964. Acknowledgment of Sri Ariyaratne
---
DR. ERIC LARSEN UC DAVIS
GREEN GULCH FARM ZEN MONASTERY MARIN, CA
CIVIL ENGINEER & MASTER BEEKEEPER
https://humanecology.ucdavis.edu/eric-larsen 
https://humanecology.ucdavis.edu/sites/g/files/dgvnsk161/files/inline-files/larsen_cv.pdf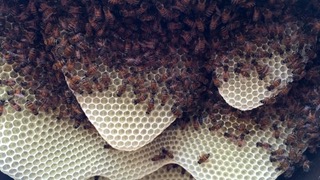 In his own words:  My work focuses on how rivers form in nature. What I do is vital to understanding rivers, has far-reaching impacts on a range of natural resources, and excites me. I use my work to guide others – particularly decision-makers – to help them make informed planning choices. As a "Research Geomorphologist" in the Landscape Architecture Program, I have developed a gifted team, representing many disciplines, which influences river management and restoration throughout the West. I also reach out beyond the university, representing UC Davis and the Landscape Architecture Program to the general public, to help them understand river processes and how to manage them in the public interest. After decades of practice, I am now sought out to help "communicate complex scientific ideas to the public in ways that they can easily understand."
Water, and how it flows, impacts every community on the planet. Understanding the dynamics of flowing water, and how to predict it, is absolutely vital. Fostering that understanding is not only a public service, but it is also essential in a world facing massive changes to its climate and natural resources. I use my expertise in rivers to create tools, a team with others, and influence decision-makers to plan for these changes in a thoughtful and deliberate way. It continues to be a rewarding experience.
UC Davis Bio
I first met Eric at a touch football game at Golden Gate Park in the late 70's/early '80s. I remember someone on the opposite team (all friends mind you) lovingly chastising me for not counting out Mississippi 1, 2, & 3 before the ball could be passed. Being a devotee of Meher Baba's (who was silent for the last 44 years of his life) I defended myself by stating that I was just observing a vow of silence instead of calling out 1 Mississippi, 2 Mississippi, 3 Mississippi. Larsen laughed and I think that was the beginning of our friendship.
Because he was in a leadership role at Green Gulch Farm (GGF) and the apiarist for 65≠ hives on the farm and as well as in Bolinas he eventually invited me to assist him. As I mentioned earlier, I was a resident of the Monastic Farm for about 2 years, spending my summers at the monastery in Big Sur (Tassajara). I drove up for weeklong retreats on the property for a couple of years after the 'vow of silence' football game, and I also played guitar at Eric's wedding.
During this time Eric had yet to crack down on studying for his Ph.D. I was primarily working in the kitchen with 2 world class chefs: Dan Welch and Deborah Madison (See Their Stories Below). However, I was also assisting Eric with the hives on the property. GGF was approximately 110 acres that ran down to the sea, bordered by Hwy 1 & Mt. Tamalpais to the North: the beautiful green hills to the South that extended to the Bay: and Muir Beach which made up the Western border. The hives which numbered approximately 50+ were located near the entrance of the property.
Each hive had a queen (Eric and I had to go down to Watsonville at some point to buy 10 queens) and there were stacks of extended wax sleeved boxes called 'Supers'. The sleeves had a somewhat correlated hexagonal shape, and the bees would store the honey there, We averaged about 5-7 Supers per hive as there was tremendous flow, a lot of activity. The bees responsible for doing all the work were the females (so what else is new!). The main job of the male bees, who were oversized, oafish, and somewhat clumsy: was to swarm, & would only be tolerated until a swarm took place. Afterward, you'd watch the female workers literally drag the males to the edge of the hive and flick them over the edge! Yikes!!
Beeswax foundation in a frame for a honeycomb (Usually 7-8 per frame)
The year that I focused on working with Eric, my job was to harvest the honey and the honeycomb for gifts and holiday fairs. There was a room designated with the most antiquated gear you could think of, but I managed to bottle 2,200 pounds of the Eucalyptus Honey (dark in color) and about 150 plastic containers approximately 35-50 cubic inches that contained big chunks of honeycomb dripping with fresh honey. I also was responsible for labeling everything and preparing them for gifts and for sale. I had a blast.
Years later when I returned from India, after recording Monsoon Season, I lived on Eric's property in a garden shed that had been tricked out as a meditation/guest room (approximately 40 square feet with philodendron growing from the outside through the open eves). Later, I secured a position as a caretaker on a 5-acre site in the foothills of Mill Valley. But during the time I was living in the woodshed, I played guitar daily for about 6 hours, gave a 2-hour interview for NPR radio in San Francisco (See the Liner Notes for Vortex), and tried to earn my keep. Acknowledgment of Dr. Eric Larson
---
BEN LO
TAI CHI CHUAN MASTER
SAN FRANCISCO CA
http://www.taichicenterofmadison.com/documents/BenLoBio_000.pdf
https://taiji-forum.com/tai-chi-taiji/tai-chi-interviews/interview-direct-cheng-man-ching-students/
http://www.wuweitaichi.com/articles/Benjamin_Lo_Five_Basics.htm
---
Laoshi BEN LO  Talking and Gesturing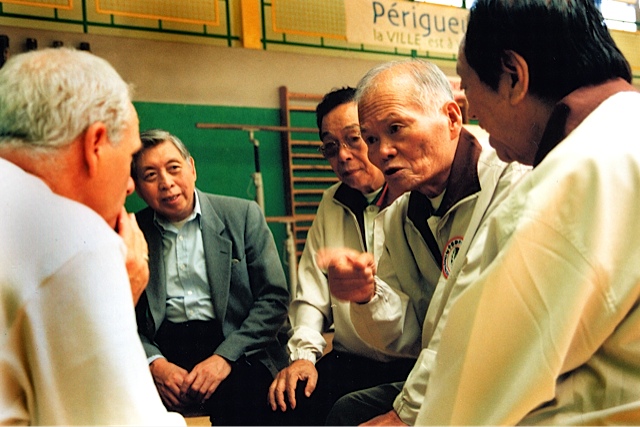 ---
PROFESSOR CHENG MAN-CH'ING
http://www.taichiberkeley.com/school/prof_cheng_sw_b/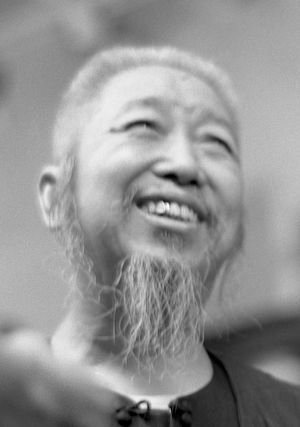 Ben Lo was born in China and moved to Taiwan in 1948. His initial relationship with Professor Cheng Man-Ch'ing was as a patient. Professor Cheng, a singularly unique individual, was known as a "Master of Five Excellencies," revered as a doctor of Chinese medicine, a poet, a calligrapher, a painter, and a master of Tai Chi Chuan. Laoshi Lo soon began to study Tai Chi Chuan with Professor Cheng, and in a few years became one of his top students.
With exceptional Tai Chi skills, Laoshi Lo remained among the foremost teachers and practitioners in Professor Cheng Man Ch'ing's lineage until his death in 2018, at age 91. Besides his extraordinary skills as a practitioner of the art, his impact as a teacher was widespread and profound. His teaching offered the rich legacy and tradition of the past to students here, today. With great integrity, he maintained the vital legacy of his teacher and required the same of his teaching students.
While adhering to the traditional qualities and essential nature of the art taught by Professor Cheng, Laoshi Lo exhibited in his own person and in his teaching two of the most important qualities of Tai Chi: adaptability and change. The impact of Laoshi Lo and his teaching profoundly transformed Tai Chi Berkeley instructor Lenzie Williams, who assumes responsibility to pass on his teacher's Art as an honor and a privilege. Ben Lo Bio
Ben Lo was also considered a Master of the Five Excellencies: Doctor of Chinese medicine, Poet, Calligrapher, Painter, and a Master of Tai Chi Chuan. During my 2 years of residency at GGF, I would travel over the Golden Gate Bridge twice a week to study with 30 other students at Ben Lo's Tai Chi School in the Richmond District near Golden Gate Park. I was a complete beginner. But with Ben teaching the class, and being surrounded on all sides by senior students, I felt very supported by Ben and his community.
The room in which we practiced in was sizable. There was sufficient space for 30+ students to be lined up in 3×10 rows. I would always choose a place in the back because I was a complete beginner. However! That did not save me from being noticed by Ben who would never hesitate to traverse the classroom and come up from behind and draw me into him so that I could feel what he was explaining. Relaxing required learning how to 'sink deeply' which could be very strenuous on your legs. Ben would come up behind me, and by creating a mold would draw me backward and downwards so that I could feel how deep I was aiming for. Usually, within a few seconds I would topple over as I could not sustain that depth of practice; but that never stopped Ben from involving himself personally. Also, many times, even though I was somewhat "hiding' in the sea of students, Ben would shout out from across the room" Richard, Sink! What a loving teacher.
The classes always began with everyone doing the complete Yang Style form or Short Form, as handed down by Ben Lo's teacher: Cheng Man-Ch'ing. The form would take less than 20 minutes. After completion of the form, all the students, with Ben front and center, would stand in a horse stance (legs spread shoulder width, knees bent, arms relaxed at your side) for about the same time. Then we would practice individual postures within the form. If I remember correctly, there were about 30-35 individual postures that one would slowly move through.
Following the 'forms' class, if one had sufficiently advanced in their practice, you could participate in the 'push hands' class where you would pair off and practice ' use your wrists' the exercise of pushing and yielding. This was the basis for sparring. On some nights Ben would have Tai Chi Sword classes: and/or demonstrate the results of years of study by squaring off with a senior student, and with seemingly little to no effort, catapult the student through the air (about 10-20 feet, where he/she would be caught in a basket of arms!)
When I would return to GGF, I would practice the Yang Style in the lower barn beneath the large zendo. It was quiet (no-one would come down there), low-lit, and just enough room to not feel crowded. I regret that I did not continue studying with Ben. There were a few zen students that had been senior students of Tai Chi before gravitating to SF Zen Center. They thought it was difficult to 'serve 2 masters' as it were. I'm not sure about that in hindsight. The practice of Tai Chi with Ben Lo, even as a complete novice, was a blessing, He was one of the most knowledgable and fatherly teachers I'd encountered.
Ben: ' I come from the United States and I know that so many people in the US have problems with the health care system because it costs so much money, and I'm sure it's the same situation in many other countries too. By practicing Tai Chi Chuan people can become very healthy, live a longer and happier life and also reduce the costs of the health care budgets.'  Good advice. I think it's time to reinitiate my practice! Acknowledgment of Laoshi 'Ben' Lo 
---
DAN WELCH: ABBOT
KOYO WELCH ROSHI
CRESTONE ZEN MONASTERY, CO
AND
DEBORAH MADISON: CHEF, AUTHOR,
FIVE TIME JAMES BEARD AWARD WINNER
SANTA FE, NEW MEXICO
---
KOYO WELCH ROSHI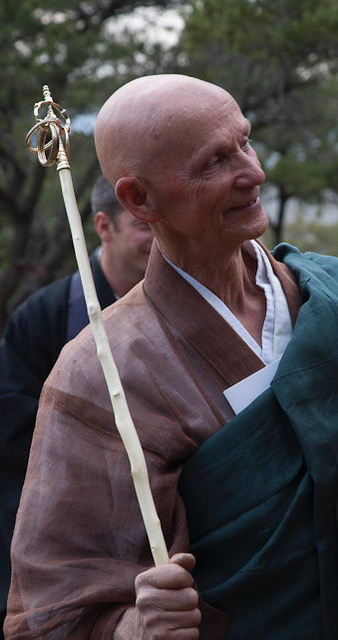 ---
CHEF DEBORAH MADISON
When I came to Green Gulch Farm (GGF) Dan and Deborah were married. Although they've gone their separate ways they remain friends. I put them together because both of them were priests at the time. Dan continued on that path ultimately becoming the abbot at Crestone Monastery in Colorado. Crestone is a beautiful location, just off the mountain highway that connects Denver with Santa Fe (about 7,600 feet high), which has numerous mountains on either side called the 'Fourteeners' as all of the mountains are above 14,000 feet. Crestone is surrounded by 14,000 footers. Dan (Koyo Welch Roshi) was the Tenzo at GGF when I was there. Koyo Welch Roshi was the assistant abbot at Crestone from 1999 to 2012, and the abbot until 2014. He has moved on since then.
The last I heard about Deborah Madison is that she had remarried and was living in Santa Fe NM. Deborah was the Ino at GGF at the time I was there. However being a deeply connected chef and part of the Alice Waters (Chez Panisse) group of gourmet chefs, she would occasionally check in with Dan in the kitchen and we would be blessed with two heavy-duty chefs. Deborah Madison is one of the founders of Greens Restaurant at Fort Mason, San Francisco: author of approximately 20 Vegetarian Cookbooks, including The Greens Cookbook: and five-time James Beard award-winning chef/author.
The Tenzo: 典座  Head Cook & The Ino 維那: Rector or Manager of the Zendo (Meditation Hall) are 2 of the 7 pillars of a Soto Zen Monastery. The Abbot is the leader, and the other 4 stewards or pillars are: The Prior: The Tsūsu 都寺, The Comptroller: The Kansu監寺, The Assistant Comptroller: The Fūsu 副寺), and The Labor Steward; the Shissui 直歳. All 6 stewards are together referred to as The Roku Chiji 六知事). In Song dynasty Chinese and medieval Japanese Zen monastic bureaucracies, the steward positions were considered the most important, exceeded only by that of the abbot. https://global.sotozen-net.or.jp/eng/library/glossary/individual.html?key=six_stewards
Both Dan and Deborah were truly inspirational priests and chefs. When I wasn't working with the bees, I was in the kitchen working with Dan, and Deborah would make guests appearances, especially in preparation for' 7 Day Sits' called a 'Sesshin' (接心) which was 1 week of fourteen 40 minute periods of meditation with all meal taken in the zendo. Being in the kitchen preparing the food for about 75 meditators was truly a beautiful way to participate in the Sesshin. After the final period of meditation on the last night of the 7 Dat Sit, the kitchen crew was asked to make an appearance in the zendo. We walked over as a group and stood by the altar as the entire body of Sangha members applauded us. How beautiful is that? Acknowledgments for Dan Welch & Deborah Madison
---
MICHAEL GROSSMAN: T.V. & FILM DIRECTOR
RANCHO MIRAGE CA
https://www.imdb.com/name/nm0343687/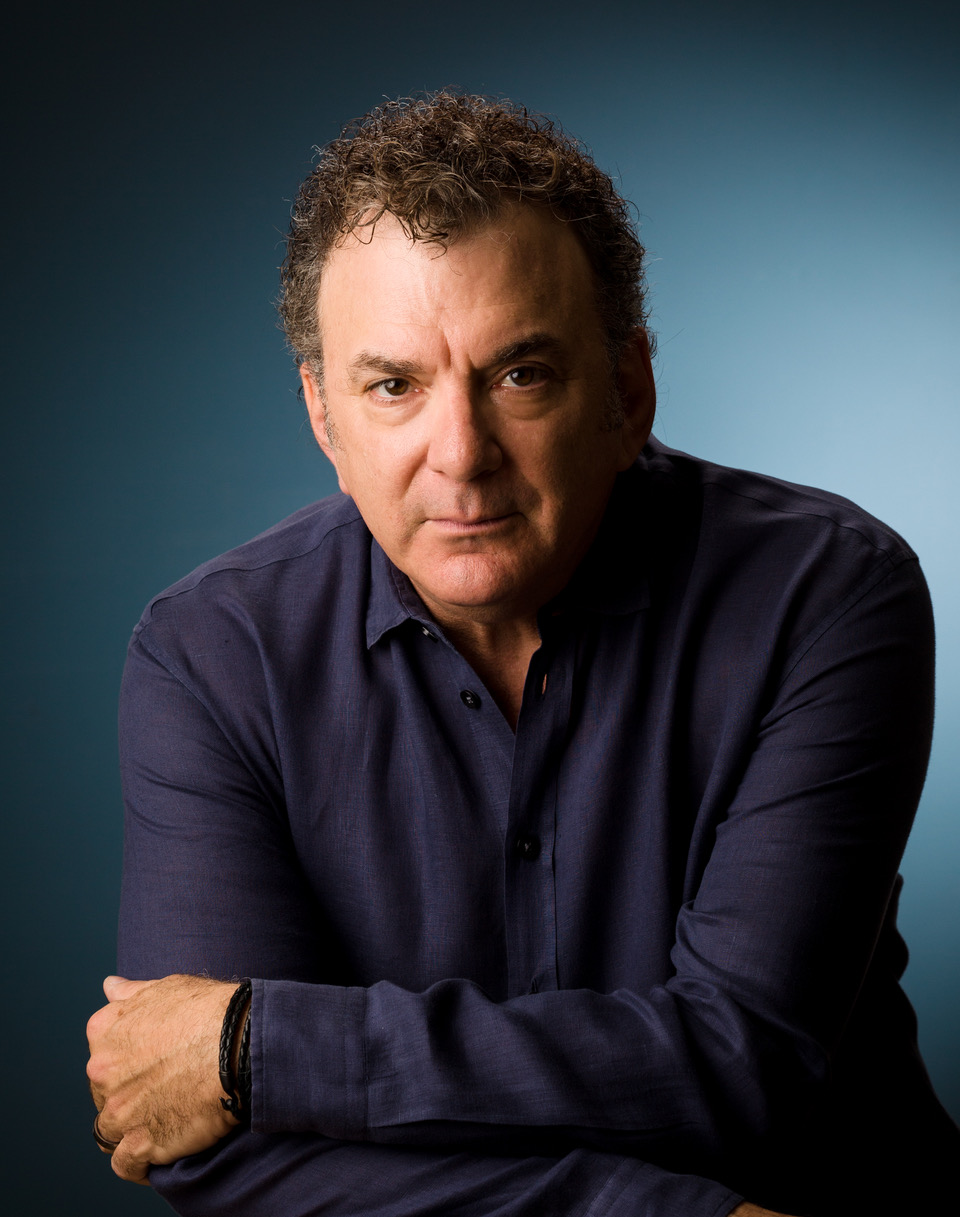 Michael has been the most indispensable friend and advocates that I have had for the past 3 years. Michael is not only a sought-after director but also a dedicated student of guitar (he has studied with me for several years now). He is also my power of attorney, and not to be messed with, as was quickly discovered by the administration for my health insurance company who's definition of healthcare is the antithesis of any care, especially health!
Grossman also joins the few philanthropists that I know which also includes Steve Vai, Arthur Pinchev & Carrie Ungerman. Grossman and his partner Michael Ludin have been on the cutting edge of outreaching philanthropy for years. They established a medical center in Bali, staffed with doctors & nurses (they even shipped a brand new van oversees for the clinic's use).
Also, they did something that inspired many others to follow in their footsteps in similar ways. Knowing that the local Indonesian high school girls did not have enough money to buy dresses for their senior prom, they started an organization that sent 'prom wear' overseas to these young girls so that they could attend. And here's yet another happy ending to this story: all the girls took photos of themselves 'dressed to the nines' (in Bali) and sent the photos back to both Mikes so that they could share in the experience.
Acknowledgments of Michael Grossman and Michael Ludin!
---
ARHTUR PINCHEV
JEWISH LEADERSHIP, ADVOCATE & TEACHER
STUDIO CITY, CA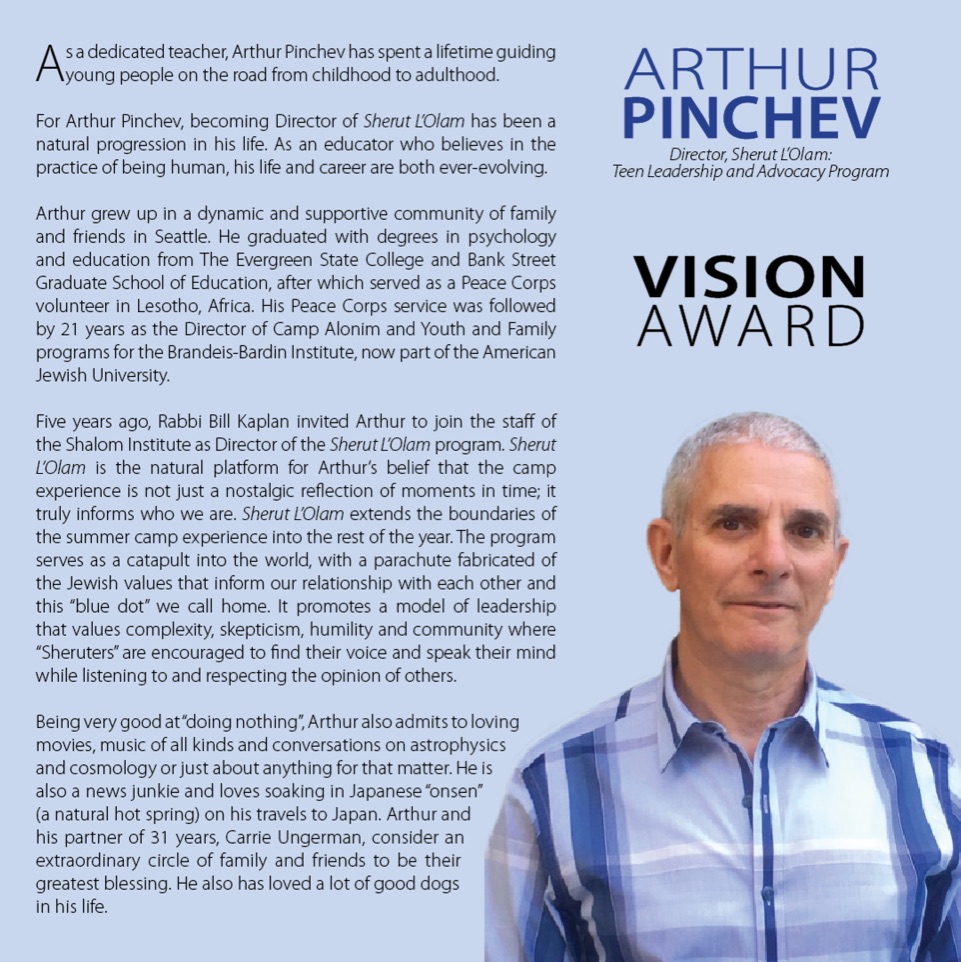 I  have known Arthur for 38 years. I have worked with him at Camp Alonim (actually had a private cabin there for 2 years), He has been a dedicated friend and at times the best psychotherapist I could have had, Michael Grossman joined that team years later. Arthur is an award-winning leader in the Jewish community who focuses his gifts, time, and energy in helping the young become enlightened adults. He's been doing this for as long as I have known him,
Before I met Arthur he was with the Peace Corps in Africa, and definitely had a challenging life. At one point he was being considered as a Regional Director. He is also an accomplished singer-songwriter with an album of original songs on the label: Sting-A-Be-Back and available on a number of digital aggregates including Amazon, CD Baby, and Spotify.  I would suggest enlarging the article above for more details. Acknowledgment of Arthur Pinchev
---
ffroggie:
'ffroggie LOVES YOU!'
MY MAIN MAN!
https://owlcation.com/humanities/Ten-Plagues-For-Ten-Gods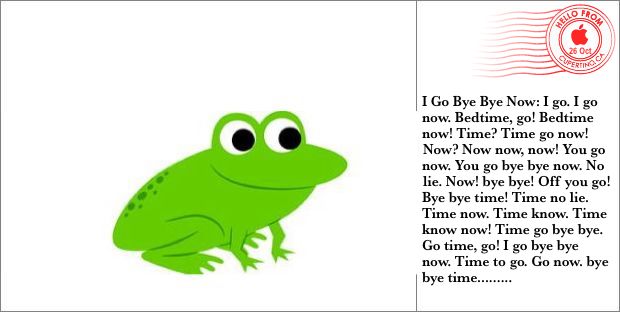 I Go Bye Bye Now!
Years ago while attending a Passover dinner at the home of one of my student's in-laws, throughout the dinner the mother-in-law would stand up and tell a story about the 10 plagues that Moses and his brother Aaron (with Moses's Staff) had unleashed on the Egyptians who had enslaved the Jewish people, which ultimately resulted in their escape into the desert for the next 40 years before establishing their own home (something the current Dalai Lama often talks about).
Of the ten plagues: The second Plague that was extended upon Egypt, from the "rod" by Aaron, was that of frogs. The frogs came up from the river and were in their houses, in their food, in their clothing, in every place possible. From the greatest to the least, no one in Egypt escaped the plague of frogs. Pharaoh's magicians were able to bring more frogs in their attempt to imitate the power of 'God', but only Moses was able to make the frogs go away. This was another attack on a famous Egyptian Goddess, Heket.
During the Passover dinner all the adults were sitting together at the dining room table, and at a smaller table sat all the children. 10 times the 'mother-in-law' in the spirit of the Passover Story stood up and talked about one of the plagues: Turning the water into blood: The plague of the Frogs, Lice, Flies, Locusts! I mean the list goes on Broman. Anyway, now that I think about it I think that Mommy-in-law combined some of the plagues: Boils, frogs, flies, what have you; and at the conclusion of her dinner time story threw small stuffed figures at the kid's table.
Well, apparently the girl who caught the frog was not particularly satisfied. I think she wanted a stuffed boil or locust, and to show her displeasure heaved the little frog over the heads of the other kids, past the dining room table where all the adults were, and the little stuffed frog slid across the living room floor and stopped under the piano. I was impressed as the frog had traveled at least 30 feet!
Anyway, watching this go down. Noticing that no one gave a hoot. I got up from my seat, went into the living room, got down on all fours, and saved ffroggie! And ever since then he has been my best friend. Originally ffroggie had a string that you could pull and he would wiggle across the floor. But that lasted about 1 week! But the rest of him was intact, and I found him a place on my altar at home alongside my little sandstone Buddha, candle, and an incense holder. And there he rested for as long as I was living in that location.
Whenever I moved, I put ffroggie in a special zip-up carrying case, and put him in my guitar case, taking him with me to destinations all around the world. ffroggie is definitely my main man, man. And one of my favorite poems by him is the one he wrote for 'Nowhere A Go Go' on the VG-8 Synth Guitar album. Acknowledgment of ffroggie
---
GREEN GULCH FARM
MARIN COUNTY, CA
2 years in residence cooking with Dan Welch and Deborah Madison
& harvesting over a ton of Eucalyptus honey & saturated honeycomb;
And sitting meditation and practicing Tai Chi. Lots of guitar at night.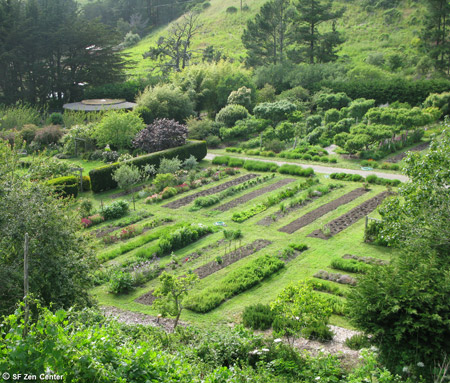 ---
TASSAJARA ZEN MOUNTAIN MONASTERY
BIG SUR CA
Head Chef for the Summer Practice Season in  1989. Hot Springs
& Japanese Baths on the Creek. Great place for a holiday!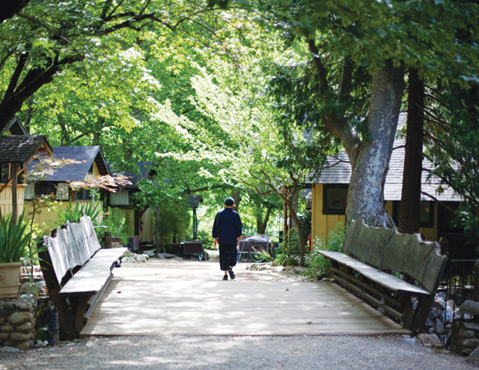 ---
SUNRISE RANCH :: EDL
LOVELAND CO
Kitchen Crew, Edward Scissor Hands on my golf cart, lots of guitar at night. Then to India!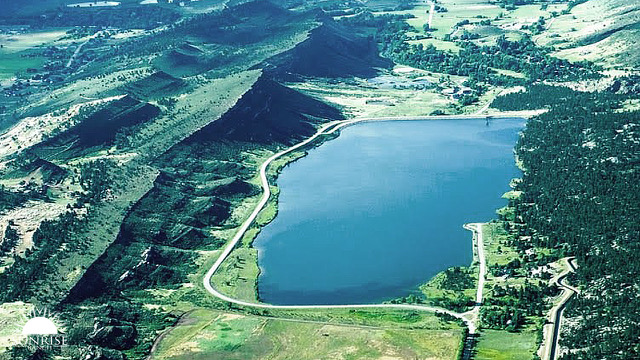 ---
BRANDEIS BARDIN INSTITUTE
SIMI VALLEY CA
Resident for 2 years. Nice cabin on 700 acre property. Good job, lots of guitar composition and recording.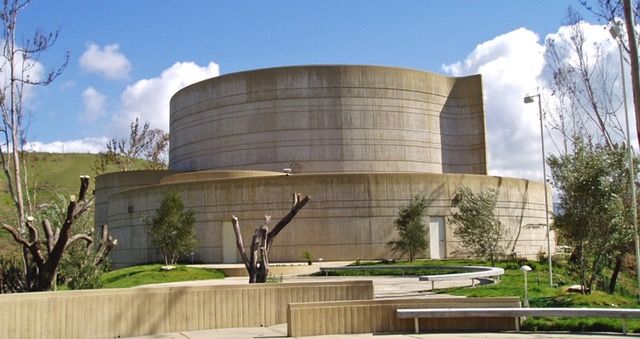 ---
KIBBUTZ MA'AGAN MICHAEL
NETANYA ISRAEL
https://vimeo.com/311628071
Resident for 6 months on work/study Ulpan program. Hell of a fork-lift
driver during the day; lots of guitar at night; best sex I've ever had. Those
Jewish girls, watch out! Especially the ones from Brazil!!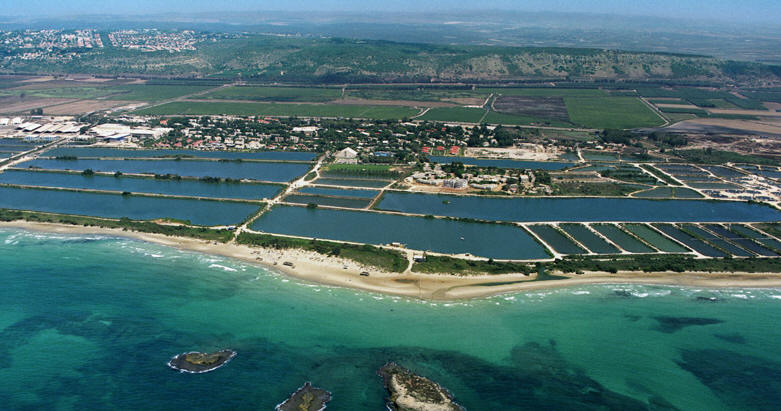 ---
AVATAR'S ABODE :: 1 of 3 MEHER BABA PILGRIMAGE SITES
MT. KIEL
WOOMBYE, QUEENSLAND
World trip: Los Angeles, Hawaii, Tahiti, New Zealand, Tasmania, Eastern Australia, India, Israel, Holland, England,, U.S.A.

---
MEHER SPIRITUAL CENTER :: 1 of 3 MEHER BABA PILGRIMAGE SITES
MYRTLE BEACH SC
500 acre retreat on the ocean in Myrtle Beach. 2 Fresh-Water lakes. Many months a guest!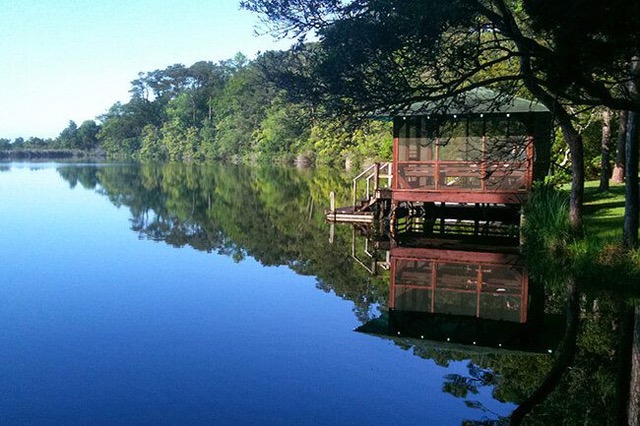 ---
ESALEN INSTITUTE
BIG SUR CA
Exchange program between Tassajara chefs and Esalen Chefs. Beautiful location on the cliffs
of Big Sur. Home of numerous workshops constantly, & one of the loveliest spas I've ever been to.
Also an uninhibited community!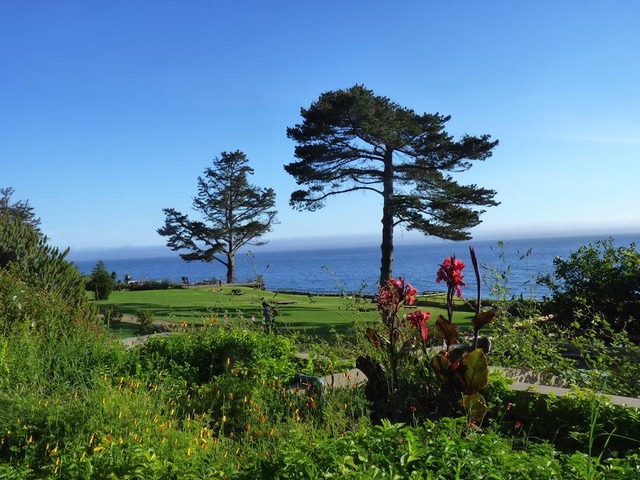 ---
NEW CAMALDOLI HERMITAGE
BIG SUR CA
Guest of Brother David Steindl-Rast & where I played
a unique concert for 25 monks.and played solo guitar
at Vespers in this beautiful dome.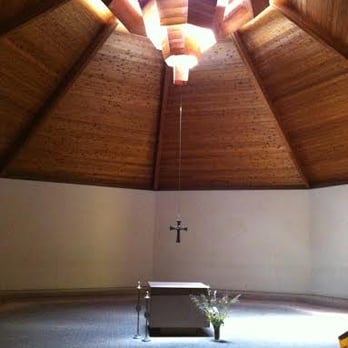 ---
MEHERAZAD & MEHERABAD
AHMEDNAGAR, MS,INDIA
Meherazad: Home of Meher Baba's Eastern Mandali. Very fortunate to have been able to meet so
many of them while they were still alive.The 2-story structure is Mehera's House (See Meher Baba).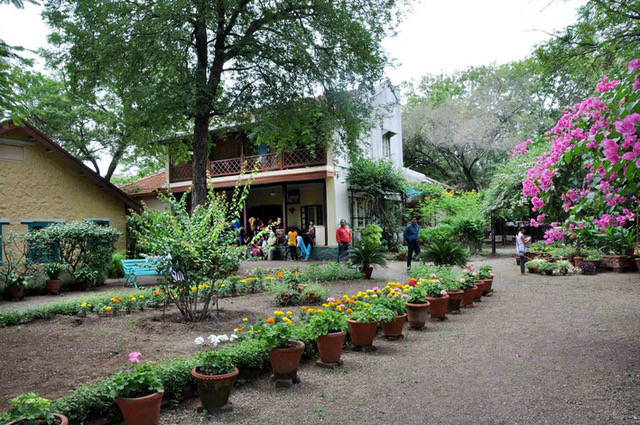 Meherabad: Meher Baba's tomb or Samadhi. Pilgrims come from every continent all year long and especially to acknowledge his passing or what is referred to as Amartithi. The line you see is like that for 24 hours as 10,000 plus pilgrims pay their respect.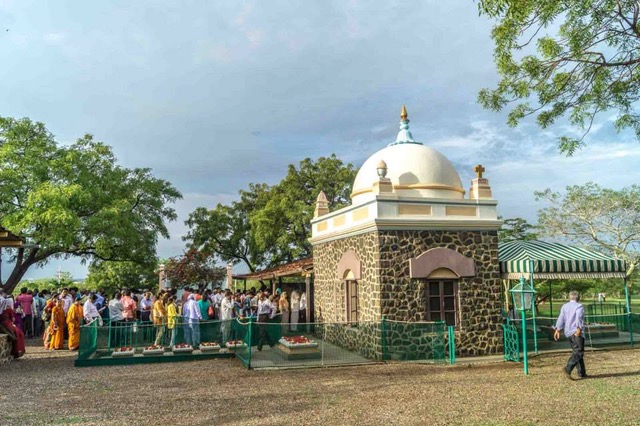 ---
Fin.