EPILOGUE :: Closing Comments
What we listen to as musicians will always influence what we play. As a rule, I believe that you have to hear it before you play it before you own it. Growing up with the guitar (playing since the age of 11 and performing since the age of 13) I've had many opportunities to listen and pay attention. Even before I was able to drive, I would find myself attending concerts at the Ash Grove and the Troubadour (popular clubs during their heyday) as well as performing and competing at various competitions with the Smoggy Mountain Boys (SMB). At the Ash Grove, I first heard artists such as Ramblin' Jack Elliott, Doc Watson and Son (Merle), Brownie McGhee & Sonny Terry, Mike Seeger, Taj Mahal, Byron Berline, The Dillards, Flatt & Scruggs & the Foggy Mountain Boys,  Pete Seeger. Randy Sparks, and more.
Later I would be exposed to some of the greatest musicians' live performances , including: Chick Corea & Return to Forever (1st time w/Bill Connors then with a 19 year old Al Di Meola), Herbie Hancock & the HeadHunters, Larry Coryell & the 11th House, George Duke, Miles Davis, Linda Ronstadt, James Taylor, Hoyt Axton, J.D. Souther, Jackson Browne, Harry Nilsson, Randy Newman, Don McLean, Carly Simon, Rickie Lee Jones, Jimmy Buffet, Dan Hicks & His Hot Licks, Seals and Crofts, Nina Simone, Van Morrison, Bette Midler, Leo Kottke, Bruce Springsteen, Billy Joel, Nils Lofgren, Warren Zevon, the Pointer Sisters, Kenny Rankin, The Smothers Brothers, Sheryl Crow, Tito Puente, Karla Bonoff, Elton John, Waylon Jennings, Tom Waits, Roberta Flack, Donny Hathaway, Tim Weisberg, Arlo Guthrie, Neil Diamond, Kris Kristofferson, Fairport Convention, The Chambers Brothers, John Hyatt, Dr. John, Etta James, Lori Lieberman, Cat Stevens, Captain Beefheart, The Byrds, Average White Band, and many others, I heard most of these musicians while working as a head bartender at the Troubadour when it was owned by Doug Weston. 
My first East Indian Teacher in Los Angeles, Hari Har Rao, presented great East Indian masters at Occidental College, and yearly at Royce Hall at UCLA. At larger venues I had the opportunity to see: The Mahavishnu Orchestra, Shakti, The Who, Tuck and Patti, Ravi Shankar, Vicente Amigo, Andre Segovia, Wayne Shorter, Bill Evans, Larry Adler, Eberhard Webber, Kit Walker, Anoushka Shankar,  Chris Smither, Jonas Hellborg, Gary Burton, Keith Jarrett, Eddie Palmier1, Weather Report, Pat Martino, The Yellow Jackets, John Mayall, Eric Clapton, Mark Knopfler, Phil Collins, Dave Weckl, Al Jarreau, Strunz & Farah, Bill Withers, Billy Cobham, Ali Akbar Khan, Neil Young, Steve Stills, McCoy Tyner, Allan Holdsworth, Jeff Berlin, Oregon, Bill Frisell, Ahmad Jamal, John Fahey, Airto, Flora Purim,  Alex De Grassi, Lenny White, Luis Bonfa, Cal Tjader, Paul McCandless, Kai Eckhardt, John Abercrombie, Ralph Towner, Shelly Manne, Liz Story, Michael Manring, John Hammond Jr, Jaco Pastorius, Pierre Bensusan, Quincy Jones, Joe Zawinal, Mose Allison, John Prine, Willie Nelson, Richard Thompson, B.B King, Bonnie Raitt, Yngwei Malmsteen, Steve Morse,  Yusef LaTeef, Steve Vai, and more.
All of these opportunities have shaped the way I hear music and play guitar today. And I am grateful for that.  rP 
---
Dear Reader
I hope you have enjoyed my website. In the event you would like to contact me please use the form below. In closing I would like to thank all the people involved in the creation of the website and its contents:
Steve Vai: Executive Producer, Founder of Light Without Heat (his label that I am affiliated with) and the mastering of the following 4 albums: Vortex, Live at the Temple Bar, Sweet and Sour City, & Solo VG-8 Synth Guitar Live.
Kara Scofield: CD design for the above 4 albums
Greg Wurth: Facilitation 
Jeroen Noordhuis: WebMaster
Musicians: All musicians involved in the 12 albums
Dee Zenith & HC Howard: Photos of the Voonderband
---
CONTACT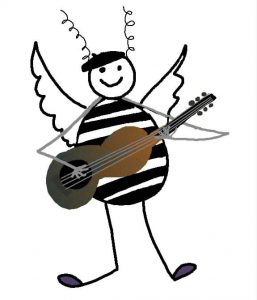 Ella Zarum: Artist
---
Thank you!